If there were such a thing as a classic folding bike, it'd have to be the Raleigh Twenty, sold from the late 60s until the early 80s. The late Sheldon Brown
was very fond
of this machine.
Although it was available in the USA, these are a lot easier to find in their home country, the UK, and its other former colonies like Australia, New Zealand, South Africa and Canada.
Super Cycle Twenty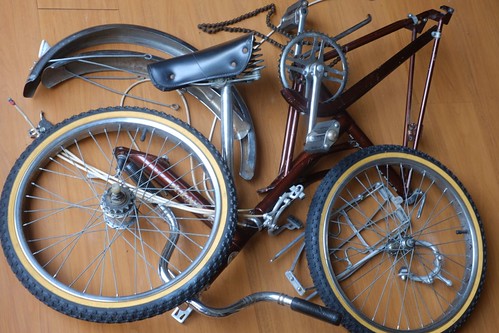 Fortunately for me, my brother who lived in Toronto patiently scoured Kijiji classifieds and found me this Canadian version - Super Cycle Twenty. He liked it enough that he bought himself the rarer 451 wheeled version.



My all-original Super Cycle Twenty with 406 wheels after assembly, which is in such good condition that only a culture vandal would dare do modifications to it.


Rollei 35 + Tessar 40mm f3.5
Fuji Neopan 400 in BTTB

Sadly, I had to leave these two British classics behind ;(



Restomod Project
I miss the Super Cycle Twenty so when the opportunity came to rescue
a Raleigh Twenty that had been exposed to harsh elements, it became the perfect candidate for my
minimalist, Mini-Velo-inspired
R20.
While taking the bike apart, I had to use a hacksaw to remove the
rust frozen
chain, chain guard, amongst other things that were once attached with a nut or bolt ;(
The steel rims were also suffering the ravages of oxidation. Two weeks of soaking the Sturmey-Archer AW 3-speed hub in WD-40 and it still wouldn't budge. I finally decided it was best to build a new set of wheels and revisit the AW hub at a later date.
My next challenge was dismantling the headset/fork. Somehow the top nylon bushing fused with the stem, fork and headset assembly. While I was playing at the
Shippensburg Music Festival
, I discovered a local bicycle shop, the owner of which succeeded in taking them apart, as well as a stubborn cotter pin in the crank set. Thanks Terry!
Eventually, I got the frame stripped and prepared for repainting.
Parts for a new wheel set: Sun CR-18 406 36H rims, SRAM Automatix 2-speed coaster brake rear hub, Sovos alloy front hub with a 5/16" axle, DT Swiss 185mm double-butted spokes + brass nipples
After heeding advice from the nice folks at
The Raleigh Twenty
forum, I used the
Pro Wheel Builder
to calculate for spoke length and settled on one spoke length for both front and rear wheels. The front wheel ended up laced in a 2-cross pattern while the rear is a standard 3-cross.
The frame and fork were painted using 2 cans of Rustoleum black hammerite and left to dry for a week. After cleaning the bottom bracket assembly (cups and axle), it turned out to be in excellent condition. I just repacked the bottom bracket with fresh grease using brand new 1/4" ball bearings. Using a wire brush attachment to an electric drill, the 44T chainwheel and cranks polished up nicely, then I fitted a pair of lighter folding pedals.
A Ritchey Logic headset replaced the original nylon bushing.
The Origin 8 Classique Sport leather saddle + alloy seat post is significantly lighter than the original Brooks touring saddle with coil springs and its matching steel post. Kenda 20 x 1.75 road tires with new inner tubes were fitted to the rims.
Cork Grips + H
2
O bottle
Commissioned on Aug. 30, 2016 using the stock 44T chainring + 19T cog supplied by SRAM yielding a low 43.3 and high 58.9
gear inches
. As reported in this
blog
, the SRAM Automatix tends to up shift too early. I haven't done the recommended hack to address this issue but
bookmarked
it for future reference. Meanwhile, I've learned that modulating pedal pressure prevents shifting too soon, while a slight backpedal or merely coasting can re-engage low gear. I was more concerned with the rather low gear ratios so after almost 50 kilometers of riding, I replaced the 19T with a 16T cog for a longer effective stride of 51.4 and 70
gear inches
, respectively.
Looking forward to fun-filled cycling moments on this bike ;)